Round 8 of the championship was held at Spielberg in Austria on the Red Bull Ring. For the second time this season it was a sprint race event, what meant that there where extra points to gain in the 5 lap sprint race after the regular qualifying session.
During the qualifying session a new name unknown name appeared up front, TF_Lynxx. While driving an AlphaTauri because of LTrocker's absence he was very very quick in his first race in DTR. A second place just behind Jari was the result and ahead of team mate of the day GChalkers and Boompje. The full results of the session: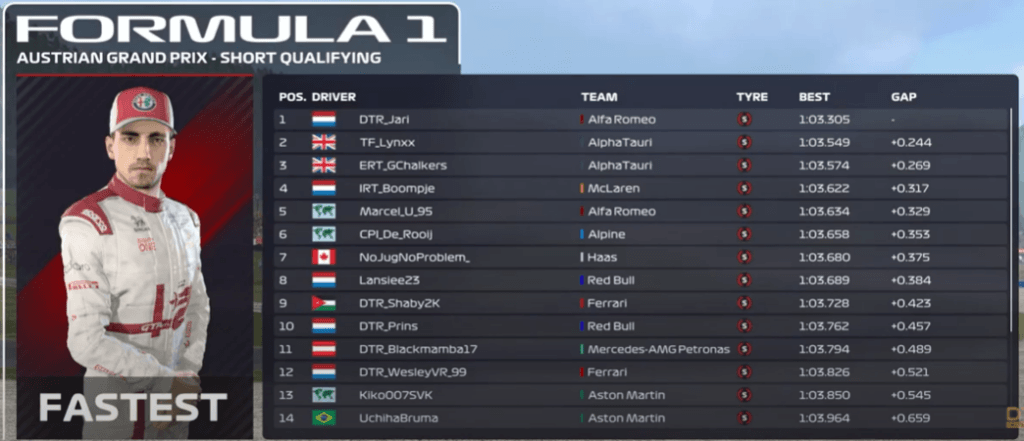 During the 5 lap sprint race not many positions up front changed, the whole five was actually the same, the biggest move up was by who else but Shaby who went up from p9 to p6, taking 3 points home. In his championship fight with his other rivals those are some very much needed points. De Rooij took seventh place and Canadian driver NoJug added the last point to his now total of three in the season.

The Sprint race results: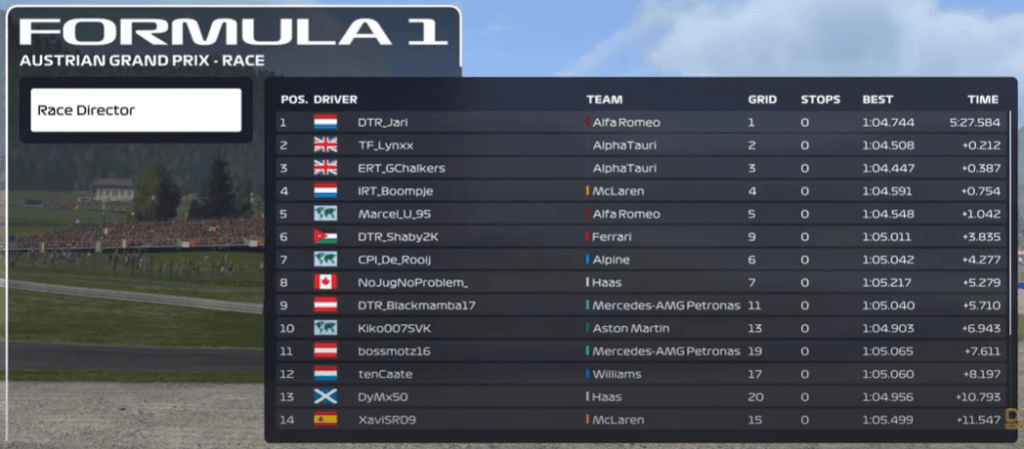 When the red lights dove at the feature race Lynxx made it clear he was here for one thing only, the race win! He stormed away and was already ahead of Jari before turn 1. Shaby also had a phenomenal start moving up to fourth place. One driver was extremely unlucky, Swedish driver Livingwall was the victim of a game bug and had to forfeit his race after just two laps. Three laps later Tencaate was the second driver with a DNF behind his name. Up front Lynxx and Jari put up a great racing show, changing positions for the lead lap after lap, just like we've seen earlier in the season at Imola where Jari and Chalkers where doing the same. Right behind them was Chalkers, who sat there waiting for something to happen, but unfortunately for him, he was the one being unlucky. A spin at turn 9 in lap 6 dropped him down to 17th. He wasn't the only driver making a mistake as Boompje did so as well on lap 9. He got launched off track by going to hard over one of the kerbs and his race ended there.
When in lap 14 some rain drops fell down no one was sure what the right moment was to pit for intermediate tyres. Everyone got helped by Martijns who crashed out and caused a safety car situation. With the race at the halfway point and waiting for a restart this was the order: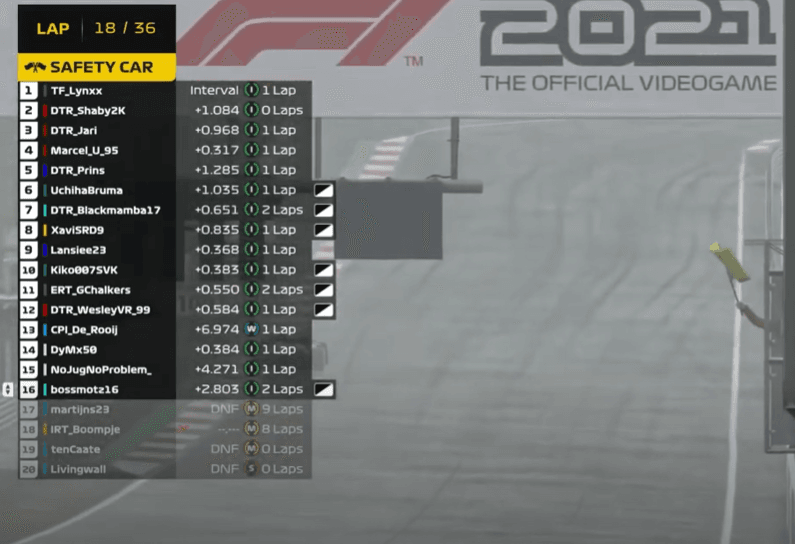 About then laps later the rain really came down hard and intermediate tyres where not enough to prevent drowning, most drivers where once again saved by a safety car, preventing that Prins was able to do an undercut as he was the first to pit for wet tyres. With just 2 laps to go the race was restarted. Shaby tried everything he could to keep Lynxx from the win, but the newcomer was able to defend the attack and took the win home. Shaby and Jari, being consistent as they always are, took another podium and Prins still fought his way back up to fourth place, also helped by others having time penalties. In fifth Marcel, who had his best race of the season, being close to the leaders all race and just missing out on a podium.
The results: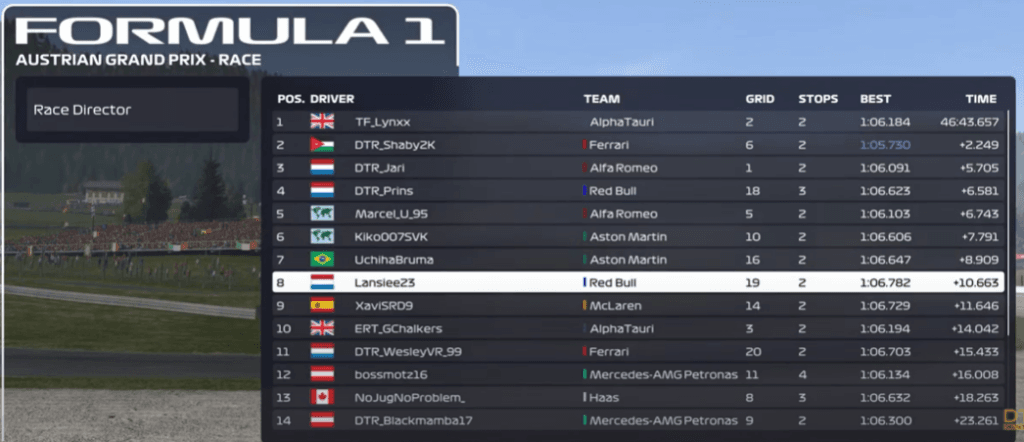 A bad day at the office for two of the championship contenders, as Chalkers only scored one point in the main race and his team mate LTrocker having none made sure they both have some catching up to do in the four remaining races.
Shaby now has 4vpoint lead over Jari and 14 points over Prins, while the two AlphaTauri drivers are a bit further behind, but not out of contention yet. However, they do need good results quickly, starting the next race in Spa, Belgium.
See you there!