Spa-Francorchamps – Belgium
For round 9 the drivers went to the beautiful and historical track of Spa-Francorchamps. A track known for some of the most iconic corners in racing, the combination of Ea Rouge and Raidillon, followed by Kemmel straight, Pouhon and Blanchimont. Many historic moments have happend here, from highlights and debuts of one the greatest drivers to moments we much rather forget about, or the 2 lap-non race of last year thanks to the weather that has often played a big role at the Belgian circuit.

During this race the weather was not going to be of any influence as for qualifying as the race no rain was expected. This also meant the chance of surprises is lower, as we saw during qualifying. The top 4 was a predictable list of names this was also the top 4 in the season rankings. Once again Jari grabbed pole position and did so for the fifth time this season. Next to him on the front row we saw Chalkers, with Prins and Chaby sharing second row. Best of the rest was Kiko with a fifth place.

Quali results: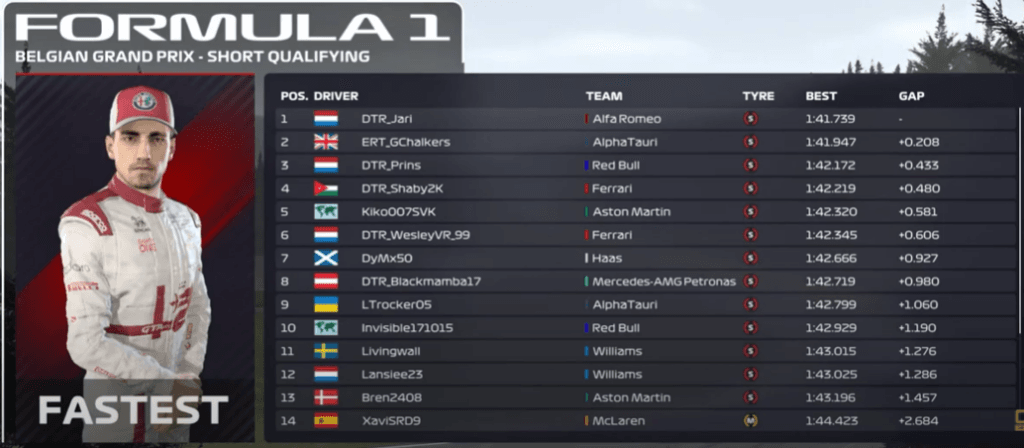 When the red lights went out Prins was off to a flying start and went side by side with Chalkers through La source, with the Englishman having the best traction and leading the pack downhill to Eau Rouge. Biggest victim at the start was pole sitter Jari. He had contact with another car through the first corner and spun dropping him all the way from first to last. Luckily for him he had no damage and yes he did lose a lot of positions, but he was still right behind everyone else. With others making mistakes, having to pit and with tremendous pace he was back in the top ten within 4 laps. Up front Chalkers, Prins and Shaby battled for the lead and up until the first series of pitstops this went all very clean. All of them pitted in lap 7 and on their outlap with fresh but still cold tyres the race really went off. On Kemmel straight all three of them went side by side with Shaby and Chalkers coming out on top going through Les combes together. As we've seen many times before in the past it only takes a very small nudge to have your car unsettled there and unfortunately for Shaby he lost the car. Whether this was due to small contact or riding the kerbs too much is still unclear. Although he was able to continue the incident did result into damage and a loss of time and positions for the championship leader.
Not much later Blackmamba spun and DyMx was unable to avoid the Mercedes car that should still on track, resulting in a retirement from both drivers and a safety car situation. This gave all remaining drivers the opportunity to pit for fresh tyres and do repairs if needed. However both leading cars misjugded the situation when the safety car came out. One had to break had and the car in second place was unable to avoid the leading car. Prins drove into the back of Chalkers' car and was unable to continue. A big blow for his championship dream. Even though Chalkers could continue his car had damage and had to pit, dropping him to last position in the race. New leaders? Lynxx, Marcel and Lansiee. Not your typical top three, right? Remember that Jari was all the way into last position after turn 1? Well with all what happened in front of him and a strong restart he had move up into fifth behind Brent. Both Brent and Lansiee proved no match for Jari and with just 6 laps to go the Dutchman was flying to the front of the race. A third place behind his team mate Marcel looked the maximum as he couldn't close the gap right away, but in the last three laps it seemed like Jari's medium tyres were a better choice than the softs both leaders had. He closed the cap suddenly and on the second to last lap he took the lead after an overtake at Kemmel. There was no stopping of Jari this time. Lynxx couldn't defend him and had to take the silver trophy home. Marcel made it a perfect day for the Alfa Romeo team as they had a double podium finish and took the lead in both the drivers and constructors championship.

The race result: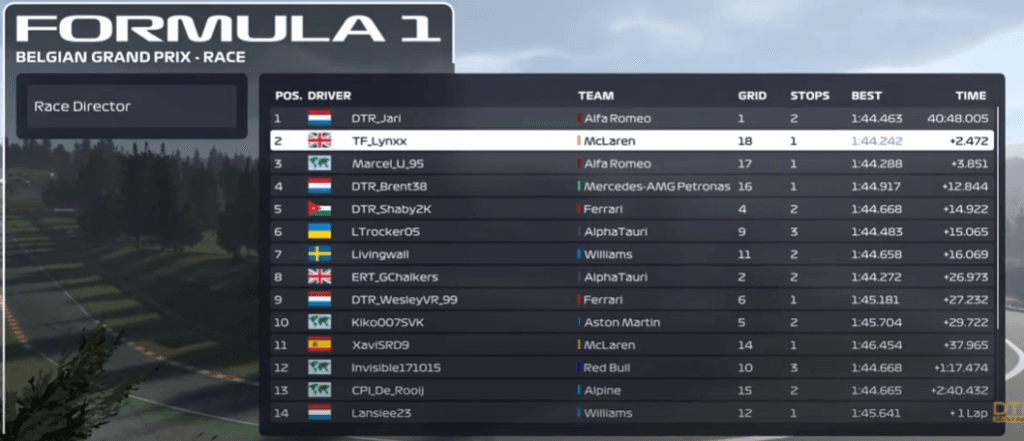 With just three races to go it seems like Prins, Chalkers and LTrocker have to wait another season to become champion and the fight will continue between Jari and Shaby. Next week we go to Baku in Azerbaijan for another show in division 1.

See you there!