Baku, Azerbaijan
With Jari winning last week in Belgium he took the lead in the championship in what seemed to going in a two way fight for the rest of the season between him and Shaby. However, there are still a few other drivers that want to fight for their last chance, namely GChalkers, Prins and LTrocker. Chalkers has been phenomenal in qualifying this year, being on the front row most of the races and in Baku he once again showed his one lap speed is one of, if not the best in the league, taking pole position with a time of 1:37.921, just ahead of Jari. Wesley was the best Ferrari driver in third, ahead of Marcel, Ltrocker and Lynxx. Prins was a little dissapointing in 7th, but has never been the best qualifier of the grid. Biggest dissapointment was Shaby, who could be found in 14th position.
Quali results: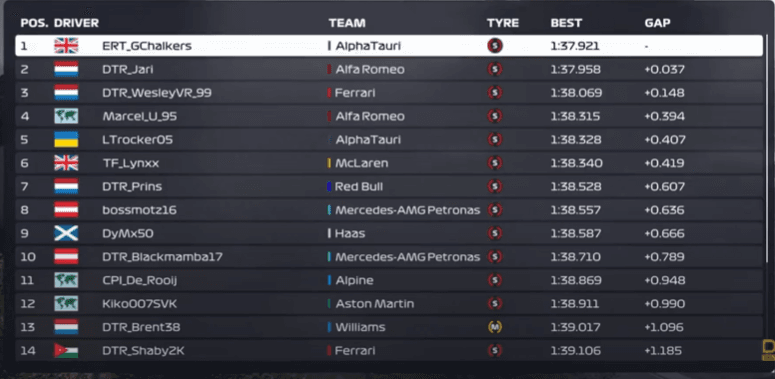 When the red lights went out one driver had a flying start. Flying in the wall that was. LTrocker completely lost traction and took a few others with him. DyMx who has been in good form lately and had another good quali session was the biggest victim and had to end his race right away, just like Brent. Prins was another victim in the starting crash, but just like the starter of it all, LTrocker, he was able to continue his way.
A Safety car situation was the result and some drivers used this as a free pit stop to get rid of the soft tyres that usually don't last very long around here. It meant Marcel was the new race leader, followed by Kiko and Shaby, who moved up 11 places due to the crash and the early pit stops by others.
Everything seemed to be going just fine up front for the race leaders until lap 6 where Marcel spun at the castle section on his worn soft tyres. Shaby who had to make a sudden move to avoid Marcel's car scraped the wall doing so and damaged his car. He had to pit to fix the damage and that gave the lead to Chalkers who was now in a great position to score maximum points and gain a big load of points on his two main rivals, as Jari was in trouble too. Behind the race leader Wesley was moving up through the field with overtakes on Kiko and Livingwall, resulting in the second position.
In lap 12 Bren caused another safety car situation. Those who were in trouble earlier thanked him for the opportunity to get back in the race. Nearly all drivers used the yellow flag situation to make a free pitstop, but there were some different choices in the new tyres that raised a few eyebrows with the commentators. Livingwall and Kiko opted for the hardest compound while Xavi chose a set of softs. Everyone else was on the mediums, a tyre that could get you till the end of the race. When the race was restarted it didn't take long for Kiko and Livingwall to drop back down the order, both most likely regretting their decision to opt for the hard tyre right away.
A few laps later Martijns caused another safety car situation. One other driver in trouble was Shaby, who was now in 16th and last position. This late in the season a no point score can be fatal in fight for the championship, so he had work to do, especially with his rivals being up front.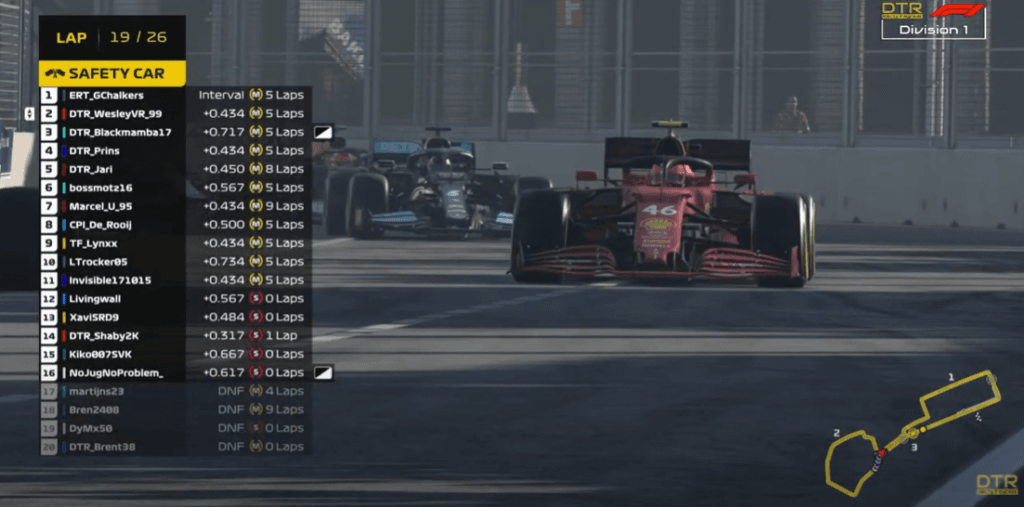 Chalkers, Prins and Jari were all in the top 5, so the best thing Shaby could hope for was his team mate stepping up and taking important points away from the rest.
While Chalkers had been dominant the whole race the turning point of this Grand Prix was in lap 24, where the Englishman hit the wall and damaged his front wing. This gave Wesley the opportunity he had been waiting for and seized that on the long straight up to turn 1. Both he and Blackmamba overtook Chalkers and if it wasn't for Blackmamba having a 3 second time penalty both him and Wesley would battle for the win on those last two laps.
Just behind the leaders we had an incredible fight between Jari, Bossmotz, Lynxx, De Rooij and LTrocker. They all took turns in overtaking one and another, with none of them willing to give up a position. This ended in dramatic fashion as on the last lap both De Rooij and LTrocker hit the wall and couldn't continue their race. This helped Shaby in his comeback as he managed to finish in 8th place, only one position behind Jari.
Up front Chalkers was struggling so much with his damaged car that he couldn't hold of Prins, who even got second place as Blackmamba's time penalty helped him finish just ahead of the Austrian. The winner of this memorable race was Wesley who finally ended his streak of bad results and scored more points in this race than he did in the rest of the season.
The race results: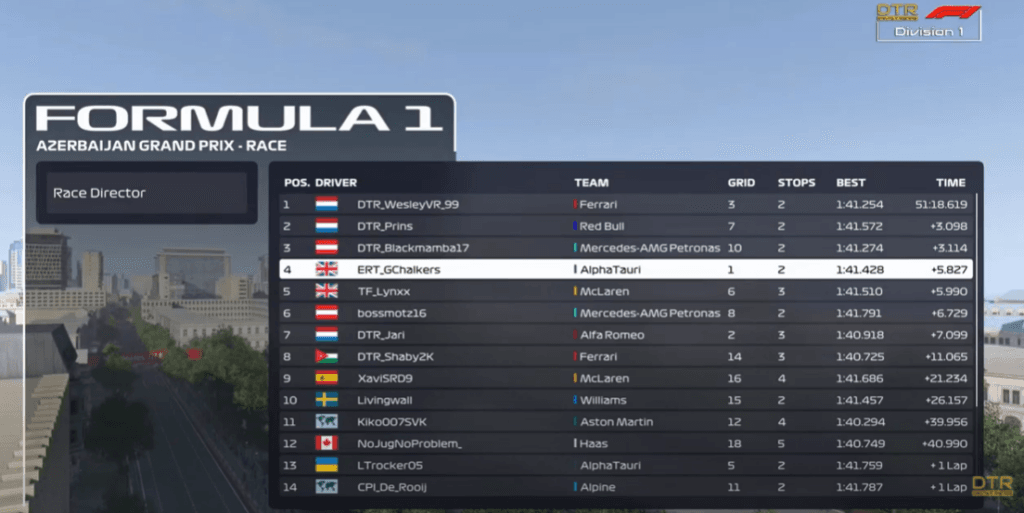 With Prins getting a podium and his rivals not scoring too many points he kept his championship hopes alive, while Chalkers will need to hope for a miracle as he is now 45 points behind the leader, with just 60 points available to score.
The standings:

As it looks to be a 3 man fight for the drivers title, there also still three teams in the running for the Constructors championship:

Next week in Mexico we will continue the battle for the DTR F1 championship. Make sure you don't miss out on the action and tune in Tuesday night!