It's lights out and away we go for division 4 in season 4. We have new teams and drivers from all over the world. There is a wide range of ages and experience this is going to be a sure-fire action-packed season taking place.
Alfa Romeo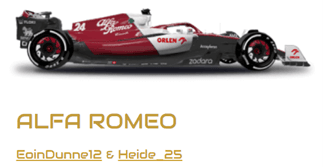 This season sees the experienced EoinDunne12 driving alongside newcomer Heide_25. EoinDunne12 finished 12th in division 3 last season but is ready to prove he is quick driver. Unfortunately, he does have a tendency to make mistakes, but if he is able to cut these out, he may be an outsider to challenge for the driver's championship this year. Expect him to make a few trips to the podium this season. Heide_25 will be looking to make an impression in this division and will look to prove they are a very consistent, capable driver.
Alpha Tauri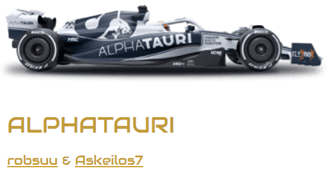 Alpha Tauri sees two fellow countrymen, Askeilos7 and Robsuu, team up to put in a challenge for the constructor's championships. These are two quick drivers who will be likely to appear on the podium many times this season maybe with some race wins. Askeilos7 finished 5th in division 4 last season and will be looking to improve and maybe gain a few places in the division. Robsuu finished 2nd in division 5 last season. Coming into his second season as a DTR driver he will be looking to continue to climb through the ranks. With the pace of some of the induvial drivers in this division this season, both drivers may struggle to challenge for the driver's championship, however their combined consistency will allow them to potentially put a charge on for the constructor's championship.
Alpine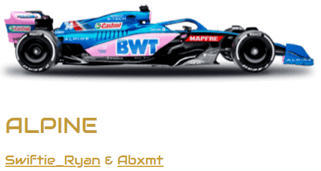 Swiftie_Ryan and Abxmt are teaming up in the Alpine this season. Swiftie_Ryan raced last season in division 2 in P16. This season his main focus will be on consistency and not making mistakes, whilst proving he is a driver to be reckoned with. Abxmt is another new driver looking to make an impact on this division and DTR as a whole. With Swiftie_Ryan suffering from so many issues last season and Abxmt being a rookie it is difficult to predict what is possible for this team, making these two drivers one of the dark horses of this division.
Aston Martin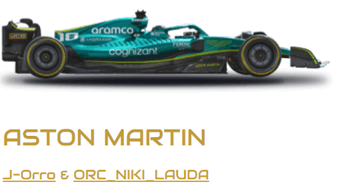 For the Silverstone based team, the returning J-Orro and newcomer ORC_NIKI_LAUDA will be taking the seats. J-Orro is returning after missing last season and is keen to show he hasn't lost any of his pace. He will be keen to bag himself a podium or two. ORC_NIKI_LAUDA is our third newcomer of the division and is keen to show his pace and maybe get himself a couple of podiums and race wins through the season.
Ferrari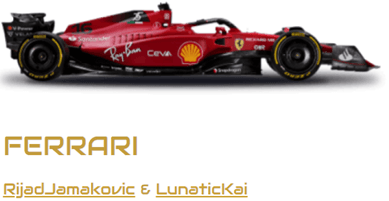 The scarlet red cars will be driven by two very rookies, RijadJamakovic and LunaticKai. These are two newbies who will be looking to prove they are quick and mistake free. They will spend this season looking to remain consistent and get some points and race finishes under their belt.
Haas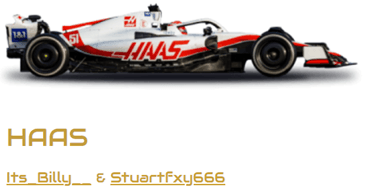 Its_Billy__ and Stuartfxy666 will be teaming up once again, driving for Haas. These two drivers are two of the quickest in the division. Last season is Division 3, they won the constructors championship, Its_billy__ finished 6th and Stuartfxy666 taking 2nd place. These two will be the drivers to beat and most likely will be battling it out between themselves for the driver's championship whilst one of the most likely teams to take the constructor's championship. Expect to see them on the podium and winning races many times this season.
McLaren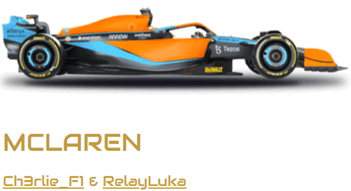 McLaren sees another duo teaming up again, with RelayLuka and Ch3rlie_F1 driving the cars from Woking. These are two drivers who started in the lowest division and made their way through the ranks. They will be looking to continue their run and continue to step up the pace. Ch3rlie_F1 finished 4th in division 5 last season and will be looking to continue pushing and adding more podiums and race wins to his name. RelayLuka is a younger driver, looking to continue to improve his race craft and is hoping to get on that top step of the podium for the first time this season. This season may be too much of a step for them to compete for the driver's and constructor's championship, however if they are able to race consistently, anything could happen.
Mercedes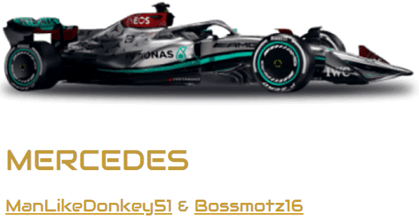 ManlikeDonkey51 and Bossmotz16 will team up racing with Mercedes this season. This is a team with plenty of experience within DTR, With Bossmotz16 having participated in 65 races. ManlikeDonkey51 has also made the step up from Division 5 last season and is ready to show he has what it takes to compete in this division as well. He uses his consistency and abilities to help him score many points in a race but on pace alone may struggle to compete for wins or podiums. The most experienced driver, Bozzmotz17 will be competing in division 4 after struggling in division 1 last season. However, he is a consistent, fast driver with plenty of racing experience and will definitely be looking to join the driver's championship fight the two Haas drivers.
Red Bull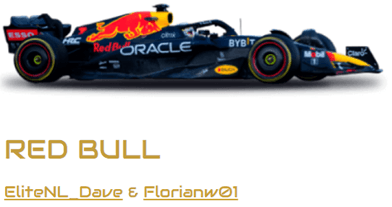 Florianw01 and EliteNL_Dave will be tasked with driving the two red bulls. Florianw01 is a competent, established driver within DTR. However, he can be error prone so will definitely be something he is looking to cut down on. He has proven to have pace but unless he can become more consistent, Florianw01 and red bull will struggle to compete for championships. EliteNL_Dave is another rookie this season, but he is fast. He will be looking to prove he is a very quick driver and may look to turn the driver's championship into a four-way title fight.
Williams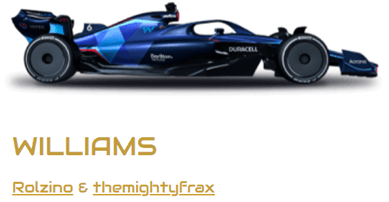 The final cars on the grid will be driven by two of the newer drivers within DTR, another rookie, Rolzino and themightyfrax. Themightyfrax has a handful of races under his belt but remains a bit of a mystery for this season. He will be aiming to show he is fast but consistent and maybe try and race at the sharp end of the grid. Rolzino is our final rookie on the grid within division 4. Like the others they will also be looking to make an impression on the grid. Rolzino will be aiming for points and consistency to prove himself in this division.
Reserves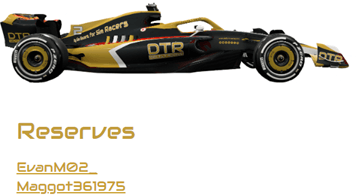 Last but not least, our reserve drivers will be tasked with covering any empty spaces on the grid if a driver isn't able to make it. This job comes down to Maggot361975 and EvanM02. Maggot361975 is another reserve within Division 4 and when the opportunity arises, he will be looking to prove he has the pace and consistency to become a full-time driver within the division. EvanM02 is the third most experienced driver within Division 4 but unfortunately work will be getting in the way limiting his time to practise and race. When he does have the time to race however, he will be looking to show he has more than enough pace to compete within the division.
With the drivers introduced it should be clear to see this is going to be an interesting season with lots of battles up and down the grid. There will be many storylines to watch, like how the rookies will get on in their first season, and which rookie will come out on top. There are also questions like will drivers like Swiftie_Ryan be able to improve on his form or when will Its_Billy__ get his next race win, after not winning one since season 1. This is going to be a dramatic season with many twists and turns and hard racing throughout the season.
The favourites
Drivers:
***** Its_Billy__ | Stuartfxy666 | BossMotz16 | EliteNL_Dave
**** ORC_NIKI_LAUDA | Askeilos7 | Robsuu
*** Ch3rlie_F1 | Florianw01 | EionDunne12
Constructors:
***** Haas
**** Alpha Tauri | Red Bull
*** McLaren | Mercedes | Aston Martin
** Alpine