Division 5 races on Wednesday night and is the second division of DTR F1 that does so. The name of the division has changed a few times, but most of the grid has been there for a long time, even in a different league before the start of DTR most were racing each other on Wednesday night. Even though the division has seen a few different winners, everyone knows that if you want to win this one, the biggest hurdle you have to take is Brandon. The English driver that races under Brandonn999 has been the benchmark of this group for years. He's so consistent that even on a bad day he does as i quote "damage limitation" and still gets a top 5 at worst. So he may not win many races, but with him scoring big points every race it's always extremely hard to beat him. Wazza did manage to do so last season and got promoted to Division 2 as a result. That means Brandon will have once again a new challenger or perhaps more than one. Let's go over the teams and see who are the ones that may be his biggest rivals of season 4.
But before we go through all others, let's start with his own teammate. After two season of racing with Dopeyman, the dissapointment of not winning either the drivers or the constructors title has called for a new teammate as he's now teaming up with J_Hayward. They've raced as teammates before and quite succesful actually. That's not the only thing Brandon changed. After a few seasons at McLaren he now returns to his personal favorite brand Mercedes.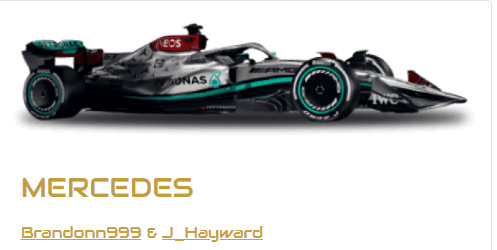 As written above, Brandonn is this divisions benchmark and favorite. His teammate will help him when he can, but surely would love to do a Rosberg and beat his own teammate and win the title himself. For that to happen he needs to be more consistent and score more points on the 'bad days'.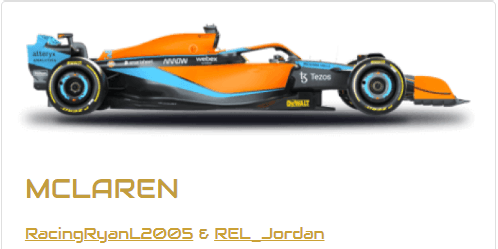 McLaren saw Brandon leave, but now have the drivers that won last season's constructors title. These two drivers have been together for multiple seasons and both of them are able to win races. The young Englishman Ryan had a strong season where he finished in third, while Scotsman Jordan has had better seasons before, but never ever count out the chances of this experienced driver.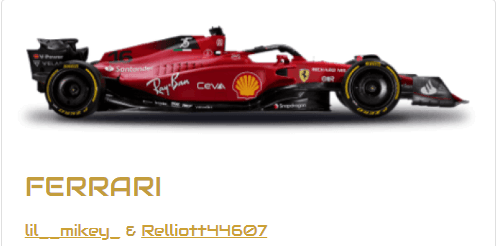 While Ferrari had both it's drivers leaving for McLaren they signed two others drivers who both had seen succes from close. Both their teammates won a drivers title last season, division 4 and 5 respectively and with both of them climbing the ranks both "number two's" decided to start their own partnership together. Ferrari hopes that both of these teamplayers can bring them another constructors title.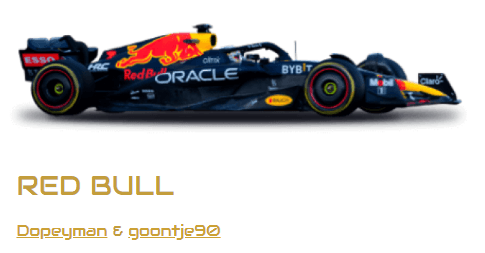 As Brandon decided to swap his teammate Dopeyman got left behind and had to find a new partner. What better partner to find then one of the few who once have beaten Brandon in the past, right? Although it was a few years back, from time to time Goontje still shows flashes or why he once was able to win races and a title. To do that again he needs to become a little more consistent and be better at damage control. Dopeyman himself would love to prove his former teammate wrong and for once finish ahead of him. Pace is on most tracks not the issue, but as said before, consistency is key.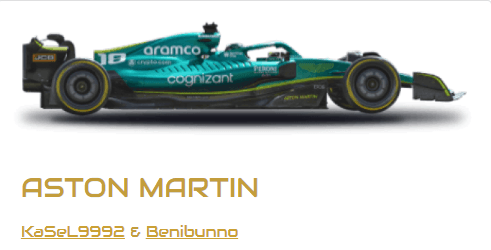 Aston Martin signed two drivers returning to this division. BeniBunno nearly won the title in season 1 as he was leading the championship comfortable for a long time, but a strong surge or Billy and Brandon at the end of that season made him lose out on the big trophy by a small margin. He teams up with Cameroonian / German driver KaSel, who returns to this division after a long absence. Kasel's biggest challenge usual is his timing of naps, as he has a reputation of being late because he overslept. Even though DTR has offered to buy him an alarmclock he said it wasn't needed and is ready to return and take on the challenge presented. No one knows if with that he meant the title challenge or the waking up, but we all hope it's the first, because when on track KaSel can be as quick as anyone. He's not the most consistent driver out there, but he is a multiple race winner.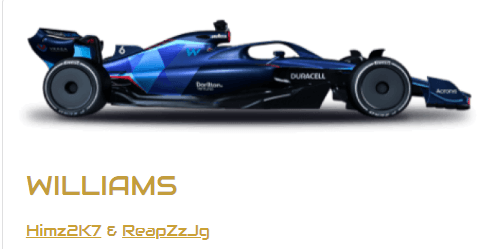 Williams has a line up with two drivers that are a bit of a mystery. Himz started off his career on a fly with a race win and a top three in the standings on his debut, but ever since it's not been great. He can be very fast on his day, but the amount of race he actually finishes must worry the team. Last season was a catastrophe with just 2 points for the Brit who is determined to fight back and do much better than he did last season. His teammate, a young German from Wolfsburg has ended his longtime partnership with FrischGezapftes and wants to be the leading man in the team. After a season in Divison 3 with mixed results he returns to his old roots and wants to lead the Williams team to new glory.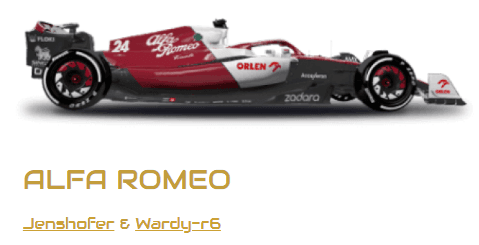 Alfa Romeo has an Austrian / English line up with two drivers who are difficult to predict where they'll finish. Jens is on pace probably top 6 in this division, but he does have a tendency to overdrive the car and make a mistake here and there. He won a championship in Division 6 in season 2, but when the competition got better he had a much tougher time. He'll be good enough to score podiums and maybe even win races, but to be in a championship fight he needs to cut out the mistakes and stay out of trouble. His teammate is quite an enigma. Like his teammate, staying on track can be a challenge for him at times, but we've also seen him have races where he absolutely crushed the opposition. Have a look at the Division 5 race in Singapore of season 2 if you want to know what domination is. He gave a pure masterclass there. What version of Wardy we will see this season is a big question mark for everyone, but if we see a glimpse of that Singapore performance again everyone should be very afraid.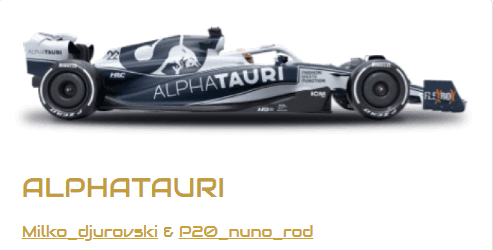 AlphaTauri has a Dutch / Portuguese line up of them, Milko, the Dutch driver is probably the most known of the two. He raced in DTR for two seasons and while at times got a decent point score his finishing rate is not something you want to see as a team. The speed is there, but to get better results you first need to finish. His Portuguese teammate made his debut late last season is probably a question mark for everyone, even for his own team. Let's hope for the former Toro Rosso's that it's a pleasant surprise.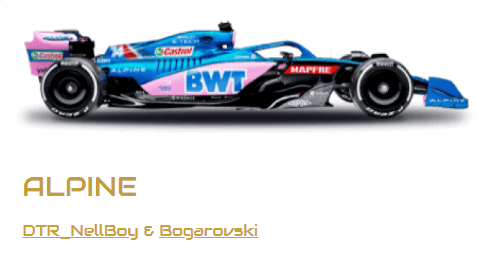 Alpine's choice is clear. They have chosen experience. Combined their drivers are 93 years old what makes this the oldest line up on the grid. (not in whole DTR btw) Okay they're old, but can they actually race? Well their combined career stats have a total of 1 pole position, 0 race wins and 6 podiums. If that's all you achieve in 3 seasons then you know this is not the championship winning team. Then if you know that most of these podiums are achieved on tracks that are not on this season's calendar this can't be a successful season for the Alpine team, right? Well The gents are determined to prove you wrong. As no other driver they know what their strenghts and weaknesses are and both will always try to help their teammate if he's in a better position. Nellboy is problably one of the quickest drivers on the grid, especially over one lap, but unfortunately he has an anxiety for qualifying. Truth to be told, both of these drivers have not been very lucky on track over the past seasons, but fully believe (or is it idle hope?) they can turn it around this time now they are finally racing as teammates. The goal for them is to achieve a podium and finish in the top ten of the drivers standings. If goals are not achieved, Division 6 is next.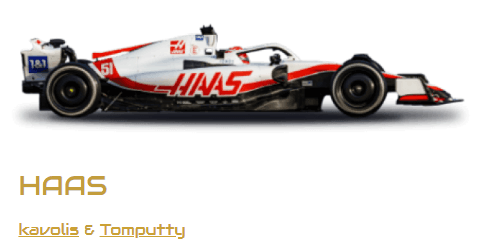 Haas has a line up that doesn't really have any household names. Tomputty had an okayish season before this one where he scored a total of just 25 points over the entire season. Nevertheless his race pace was pretty good and managed to do much better in races than in quali. The Brit hopes to improve over last season and double his point score. His teammate, Kavolis, is a Lithuanian driver with just one race on his name. He did however managed to score a point in that race in a strong field. It is however one of this season's biggest question marks where he will finish.
The favorites:
Drivers
***** Brandonn999
**** RacingRyan / Dopeyman / J_Hayward / JensHofer
*** Jordan / KaSel / Relliott / Goontje
** Nellboy / Mikey / BeniBunno
Teams
***** Mercedes / McLaren
**** Ferrari / Aston Martin / Red Bull
*** Alpine / Alfa Romeo
Division 5 will have it's preseason race tonight at Le Castellet, France. Next week they will start their season for round in Melbourne, Australia.

If you disagree with all above, please leave a comment and tell me how wrong i am. If you think i'm right feel free to tell me that as well.


Until next time!